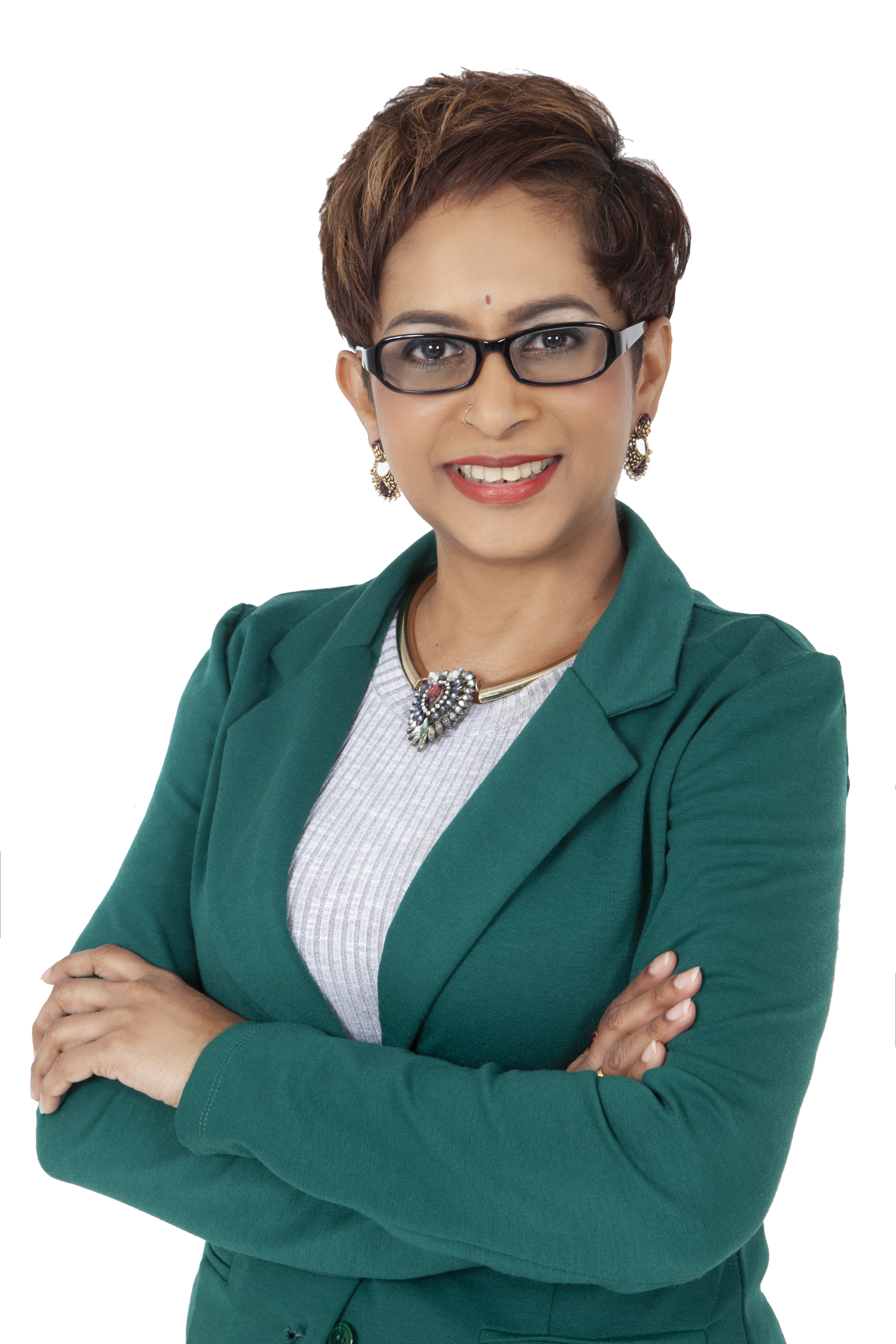 PhD in Wellness (Alternative Medicine)
Master's in Preventive Health
(Majoring in Weight Management, Skin & Beauty)
Certified Training & Development Master Coach
Certified International Image & Styling Consultant
Certified Proficiency Beauty & Aesthetic Consultant
Certified Mind Science
(Hypnotherapy & Timeline Therapy Practitioner)
Certified Ayurveda Massage Therapist
Certified Adult & Kids International Yoga Instructor
About Shanti Raj
Shanti Raj has over 30 years of experience in the corporate world, with vast exposure in East and Peninsula Malaysia. She began her Corporate career with American Express and moved on to Avon in 1993. 26 years of high performance in the MNC environment has molded her into one of the most highly sought Master Trainer & Coach; having trained more than 50,000 Avon Sales Reps. She is a go-getter & has the excellent track record to prove it.
As a Zone Manager, she consistently met and exceeded her KPIs and was awarded the 100% Club Sales Achiever recognition for 17 consecutive years. She was also one of the Top 10 Sales Achievers for 7 years in a row, achieving the President's Challenge Award and produced numerous top Avon Sales Reps consistently for 21 years. Her outstanding achievements won her multiple incentive trips to more than 30 international destinations.
With her long-term successful tenure, seniority and award achievements she was then promoted within the organization to Training & Development Manager to build similar success stories by coaching and mentoring Zone Managers and Avon Reps at the national level.
Passionate about wellbeing & the art of mindfulness, she further equipped herself with Wellness & Mind Science credentials. She is currently pursuing her Degree in Psychology and Cambridge Diploma in Teaching & Learning.
As a seasoned Trainer, Coach, Mentor, Motivator, Wellness Expert and a Certified Image Consultant; she dons multiple hats with perfect élan; and ventured into Corporate Training to share similar success stories. Her training topics consist of Communication, Personal Branding & Professional Image, Sales Development, Coaching & Mentoring, Aesthetic Wellness, The Art of Mindfulness & Stress Management. To date, she has trained multiple groups of talents with full dedication and commitment using the methodology of Experiential Learning.
Her pleasant personality and wonderful charisma blend well with people of all ages, cultures and nationalities. She practices and instils the 5 Core Values of BIRTH; Belief, Integrity, Respect, Trust and Humility for personal development. Shanti's excellent interpersonal skills and proven track record have made her an inspiration to many. To allow her talents to have continuous growth with a positive mindset, she infuses elements of Timeline Therapy goal-setting fundamentals.
She is passionate in inspiring lives and transforming people via their own empowerment.
She is a staunch believer that the relationship between performance and leadership is tightly interwoven. Her energetic and driven approach ignites the passion in others, enabling their success.
When training, she believes strongly that;
"When the audience is entertained, they will remember and learn".
Shanti's Profile at A Glance:
Qualifications:
PhD in Alternative Medicine
Master in Preventive Health
Diploma in Wellness
Certified Executive Wellness Planner
Certified Image Consultant
Certified Proficiency in Intensive Beauty Consultant
Certified Timeline Therapy Consultant
Certified Advance Hypnotherapy Consultant
Multiple Awards Achieved:
100 % Sales Achiever for 17 consecutive years; 1993 – 2009
Top 10 Sales Achiever for 7 consecutive years; 2003 – 2009
Achieved Managing Top Producers Challenge for 19 consecutive years; 1993 – 2011
Super Hit Challenge Achiever for 6 years; 2003, 2005, 2009 – 2012
Special September & December Performance for 3 consecutive years 2011 – 2013
President Challenge Awards 2003 -2006
International Destinations Achievements:
New York

Los Angeles

Mexico

Amsterdam

Frankfurt

San Francisco

Moscow

Rome

Las Vegas

St Petersburg

Brussels

Istanbul

Washington

Cairo

Macau

Cape Town

Guangzhou

Paris

Tokyo

Dubai

London

Athens

Istanbul

Johannesburg

Delhi

Cebu

Bangkok

Phuket

Hat Yai

Bandung

Jakarta

Medan
Companies That She Has Trained:
Avon Cosmetics (M) Sdn Bhd
Kinabalu Commercial College,KK
Sabah Tourism Board ,KK
Sabah Bank, KK
Capital Investment Bank Ltd Lbn.
Royal Malaysia Police ACA, KK
Women Police Force Division
Hospital Queen Elizabeth, KK
Kinabalu Hotel,KK
Hotel Hyatt Kinabalu
Shang-Ri La Tanjung Aru Resort
Nexus Resort, KK
Jesselton Hotel, KK
Sutera Harbour Resort,KK
Labuan Hotel,WP
Promenade Hotel KK
Promenade Hotel Tawau
Labuan Waterfront Resort,WP
Center Point Mall Sabah,KK
Wawasan Mall, KK
Palace of The Golden Hotel
Mines Wellness Hotel,KL
Mines Shopping Complex
South City Plaza Management
Metro Inn Kajang
Private Jet Liner's KL
Jet Liner International Penang
Unilever, Aviance Malaysia
Public Training Programs
River Cruise Melaka
PKT Logistics Group Sdn Bhd
Unitar Capital Sdn Bhd
Swiss Garden Hotel Kuantan
Uni Tech Petronas
Matrix Concept Holdings Berhad
Universities/Colleges That She Has Trained:
New Era Kolej, Kajang
Maktab Sabah
Kinabalu Comercial College
Kolej Komuniti Hulu Langat
Universiti Nottingham, Broga
KPTM Bangi
UPM Serdang
UPM Bangi
Kolej Mutiara Kajang
Poly-Tech MARA Bangi
Mara Kajang
Kolej Vokasional Kajang
Segi Kolej, Seri Kembangan
Kolej Matrikulasi Banting
Kolej Profesional MARA
Kolej Bandar Utama
Asia Pacific University
First City University College
Kuala Lumpur University
UPSI Perak
Unitar Capital
Uni KL
KDU First Uni
Politeknik Merlimau Melaka